Fighting the Winter Blues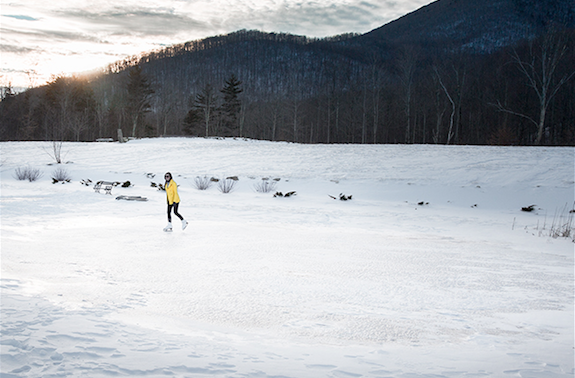 It's about this time every year that something rather unpleasant happens.
After the joy and love of Christmas fade, and the last toasts are made on New Year's Eve, winter sets in. It unfurls it's cold hard clutches and transports our world into one of frigid cold, slush, and never-ending snow. So, its no surprise that it is around this time every year I start to feel pretty down. Everything just seems to mimic the weather and become overbearingly bleak. As if there is nothing to look forward to and that spring is never going to come.
I start to feel lonely, even when I am surrounded by a sea of friends at college and a loving family that would do anything for me. I see couples anxiously getting ready for Valentine's Day with only the promise of my mom's annual "don't feel bad you're single" Valentine's Day present.
These thoughts and feelings always put a strain on my relationship with God. I find it hard to muster up the energy to pray to God, especially when I feel like He has abandoned me - leaving a fresh pile of snow in His wake. I just want someone to talk to; someone to just listen to me about my life.
That is where God comes in. I know it can sometimes feel like God has left you to fend for yourself through these cold dark months but He never leaves us. "
But Zion said, "The Lord has forsaken me, the Lord has forgotten me. Can a mother forget the baby at her breast and have no compassion a child she has borne? Though she may forget, I will not forget you! See, I have engraved you on the palms of my hands you walls are ever before Me." -Isaiah 49:14-16
Verses like this remind me that God has me and my life in the palm of His hand. He is right there and wanting so much to talk to us if we just give Him the chance.
So how do you beat the winter blues?
Be in the word and pray every day.
I'm not talking pray before you eat, but really pray. The more you talk to God the better you are going to feel. The only thing that can give you true satisfaction when you are lonely is  to hear the truth of Scripture. Let God whisper His love to your heart.
Get out and do something.
Don't stay in and Netflix one more Friday night. Make and effort to have fun and make plans with friends. The only thing that is going to make you feel more lonely is being alone.
Don't wallow.
Keep a notebook and write down three things you are thankful for each and every day. I love this quote:
"What if you woke up today with only the things you had thanked God for yesterday?"
Treat this quote seriously.
But, the important thing to remember in the very dead of winter is this verse:
"I will not bring pain without causing something new to be born." -Isaiah 66:9
God is not going to leave us during these cold months. He is using this time to prepare us for the beauty and life of spring.
Do you want to waste your winter months or do you want God to use this season for His glory?