God will provide.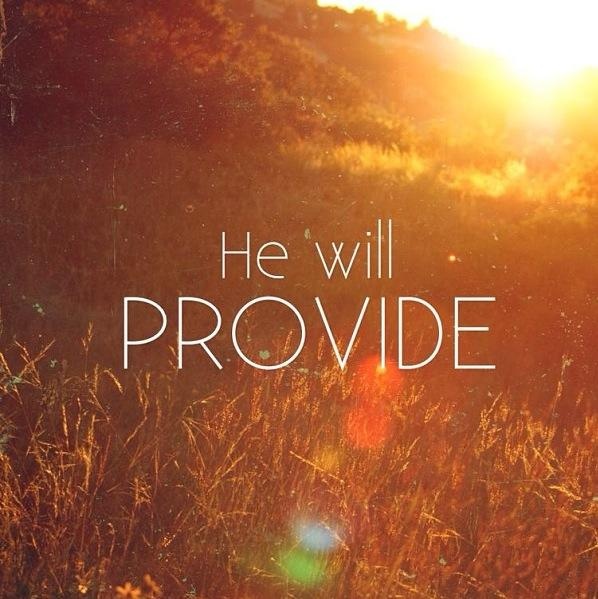 Have you ever received a text, letter or even a note scribbled on a napkin from someone you liked - like giddy almost-loved kind of like? You know, like when that cute boy texted you and no matter how simple or unromantic the text is, to you it carries all the hidden mysteries of your relationship, so you treasure it by reading it over and over again. You tuck it away in your heart, occasionally taking it out and mulling it over - trying to figure out all the delicate intricacies, hidden innuendoes, and secret promises. The message slips into your mind through out the day and into your dreams at night.
Sometimes (and it should be all the time!) I get that feeling when God makes me a promises - sometimes it's a Bible verse, other times it's a song or a phrase - something that God lovingly whispered to me during one of our special moments. And every time I remember it, I can't help but smile and repeat it in my mind - remembering where I was at the time - the smell, feel and looks of my surroundings. It's like magic, or just a secret message between lovers.
God will provide.
Those three words make my heart race. It makes me want to tell every person I meet, "Hey, did you hear?! God will provide. He just told me Himself - "Pray and that what humans can't achieve, I will do for you. You'll get your dream."
God will provide.
I bask in that promise. Even when the doubts and worries begin to sneak in, I just have to remember that moment and those three little words and the shadows disappear, because my God has made me a special promise. And heaven and earth may pass away, but His words will never disappear (Luke 21:33).
I hope this feeling lasts forever. I don't want the darkness to overpower it or steal it away from me. I want to hold it near my heart and mediate on it night and day. I want to live out the promise and have my life be a testimony of His greatness and grace.
So, mark these words, God will provide for my law school needs - the funds, support and wisdom. For example, after writing Friday's blog post, I got a phone call that I got the apartment for next year that I wanted. The housing situation for law school has been weighing down on me for weeks with limited good housing, time and money contstaints. But, almost within days it just fell into place and ended up better than any of my expectations.
God will provide, lovelies. He always does. So, whatever is worrying your heart today - whether it's family, relationship, physical, spiritual or financial problems - let it go. God will provide for every one of your needs, just trust in Him and focus on serving Him and loving the people and responsibilities in your life.
"So why do you worry about clothing? Consider the lilies of the field, how they grow: they neither toil nor spin; and yet I say to you that even Solomon in all his glory was not arrayed like one of these. Now if God so clothes the grass of the field, which today is, and tomorrow is thrown into the oven, will He not much more clothe you, O you of little faith? Therefore do not worry, saying, 'What shall we eat?' or 'What shall we drink?' or 'What shall we wear?'For after all these things the Gentiles seek. For your heavenly Father knows that you need all these things. But seek first the kingdom of God and His righteousness, and all these things shall be added to you. Therefore do not worry about tomorrow, for tomorrow will worry about its own things. Sufficient for the day is its own trouble." -Matthew 6:28-34 (NKJV)
-Yelena